Eric Persson pulled off a brilliant bluff against Jean-Robert Bellande during the newest High Stakes Poker episode, and made sure his opponent knew just how proud he was of the play.
Episode 12 of Season 10 aired on PokerGO Tuesday night, and it provided some juicy hands, none more so than the pot we just mentioned and will explain in further detail in just a bit.
Seated at the table were the same high rollers as last week — Persson, Bellande, Daniel Negreanu, Jennifer Tilly, Stanley Choi, and Andrew Robl, and Stanley Tang.
High Stakes Poker will have a special episode on Thursday at 3 p.m. PT. For the first time in the iconic poker show's history, PokerGO will live-stream the action and fans can watch every hand, not just the regular edited-for-TV version.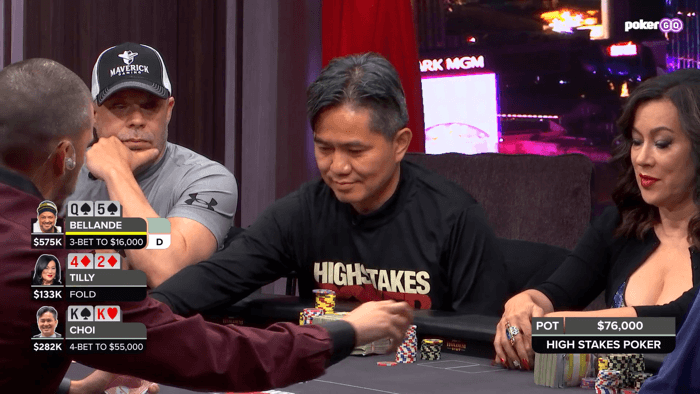 There were some massive stacks in action, especially Robl, who had well over $1 million in front of him. During the middle of the episode, the stacks were as follows:
| Player | Stack |
| --- | --- |
| Andrew Robl | $1,288,000 |
| Eric Persson | $495,400 |
| Jean-Robert Bellande | $455,900 |
| Stanley Choi | $433,600 |
| Daniel Negreanu | $175,900 |
| Stanley Tang | $134,000 |
| Jennifer Tilly | $127,200 |
On the very first hand, with an $800 straddle on, Tilly raised it to $4,000 from a late position with 4♦2♦ before Bellande, on the button with Q♠5♠ bumped it up to $16,000. That didn't turn out to be a profitable decision as Choi, the straddle, woke up with K♠K♥ and wasn't messing around. He raised it to $55,000, which forced everyone off the pot.
Shortly after, the action picked up with the double straddle on. Action folded around to Tang in the big blind, and he opted to raise it up to $6,000 with 9♠8♠. Persson called with A♣2♣ in the first straddle, as did Choi in the second straddle with 7♠6♠.
The flop came out 10♠6♦2♠, a little something intriguing for everyone. Tang led for $11,000 with a flush and straight draw before Persson, who had nothing but bottom pair, went for the aggressive raise to $31,000. Choi then three-bet it to $60,000 and that was the end of that pot.
JRB Runs Hot on High Stakes Poker
Poker Player Loves His Middle Finger
Batman has an indestructible car. Superman has a cape. Tom Brady has a golden arm. Eric Persson has a middle finger. Two of them, actually. In 2022, during a heads-up tournament on PokerGO, the poker player flipped Phil Hellmuth the bird during an argument.
That was the mainstream poker audience's introduction to Persson, the Tony G of his time, if you will. He has since become a colorful character and you either love him or hate him. On Episode 12 of High Stakes Poker, he made quite a play and then let the birds fly again.
In another double straddled pot, Robl began the action by raising to $5,000 with K♦Q♥. Bellande just called with A♠K♣ on the button. Persson called with A♥9♥ in the big blind, and Tilly came along with 3♠3♥ in the first straddle.
The flop was 5♦6♣A♣ and, after action folded to the button, Bellande bet $12,000 with top-top. Only Persson made the call. When the 10♦ appeared on the turn, the action went check, bet $30,000, call. And then when the 8♦ on the river didn't improve either player's hand, Persson again checked, but his opponent didn't take his foot off the gas and fired out another wager, this time for $65,000.
At this point it was likely Persson could only beat a bluff, so he decided to turn his top pair hand into a bluff and raised it up to $265,000. Bellande went into the tank before exposing his superior hand.
"I'm going to fold this, but quickly throw that hand in the muck because I don't want to see it," Bellande pleaded to Persson.
Persson didn't oblige and proudly turned over his weaker ace hand. He then proceeded to let JRB know just how much he appreciated the fold via the double bird.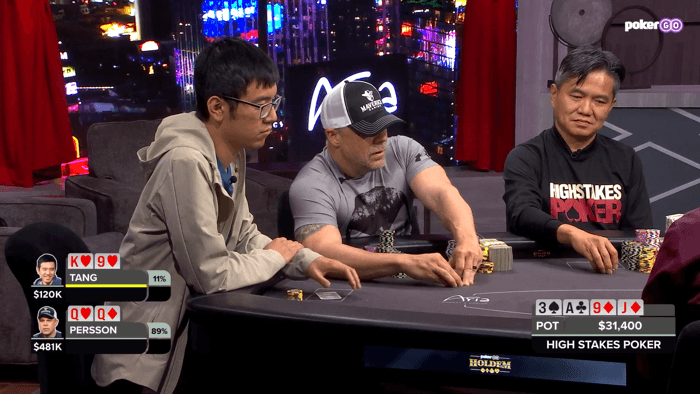 The double straddle was once again on in this next hand, which Tang, who founded the DoorDash app and will be competing in the upcoming $1 million cash game hosted by Hustler Casino Live, raised to $4,000 from an early position with K♥9♥ before Persson three-bet to $14,000 in late position with Q♥Q♦.
Everyone folded except Tang, who called to see a flop of 3♠A♣9♦, not exactly what either player had dreamed of hitting preflop. Both players checked to the J♦ turn. Persson bet $10,000 and received a call. The river was an uneventful 6♣. They checked it around and Persson took down the $51,000 pot.
Past High Stakes Poker Recaps
Check out our past recaps from Season 10 of High Stakes Poker on PokerGO:
*Images courtesy of PokerGO.