In March 2019, retired real estate developer Frank Stepuchin etched his name in World Poker Tour history when he took down the $10,000 WPT Gardens Poker Championship for $548,825 after battling through a powerhouse final table that included four-time WPT final tablists Shannon Shorr and Steve Sung and WPT champion Ray Qartomy.
Four years later, and now a household name in poker, "Frank the Tank" is looking for a second WPT title as he sits in Day 1a of the $5,250 buy-in WPT Gardens Poker Championship at southern California's Gardens Casino.
Stepuchin, who PokerNews described in 2019 as the "life of the party," has hardly changed since his televised victory. He still keeps a (quite convincing) plastic chicken wing in front of him and is still the loudest player at the table (though that may change if Steven "Cuz" Buckner moves over).
He may be the loudest player at the table, but Stepuchin, who has also made Hawaiian shirts, headbands and official-sized footballs a part of his tournament attire, is also the most approachable.
"I'm kind of friends with everybody," he told PokerNews. "If someone's not an asshole, I'm friends with them."
PokerNews caught up with Stepuchin during a break on Day 1a to talk about his 2019 victory and his hopes of making another deep WPT run.
Check Out the WPT Hub on PokerNews!
The Longest Rail
Stepuchin remembers winning his first WPT title like it was yesterday. He entered the final table with a dominant chip lead, which was more than enough to get his rail excited inside the HyperX Esports Arena at the Luxor in Las Vegas.
"I had 40 friends (on the rail), because it was a two-month delay (before the final table), the first time they did that," Stepuchin recalled. "I had literally 40 friends, the biggest rail, partying up a storm in the Luxor. I had a party suite for them for two days. So I had the biggest rail and I was drinking beer."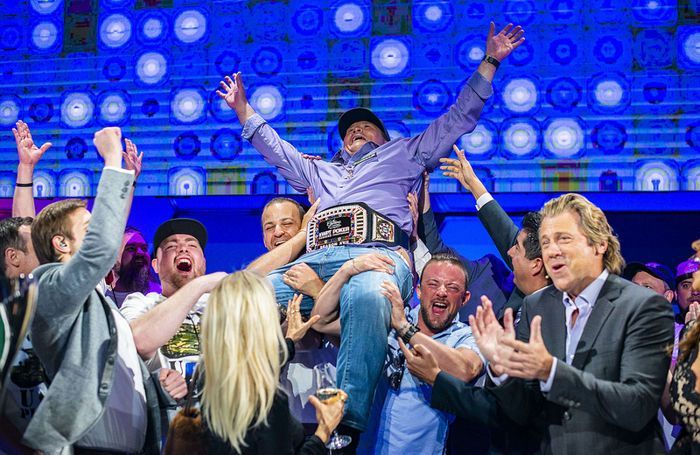 "I've read one beginner poker book ever. I don't study anything."
Stepuchin noted that he was "friends with everybody" at the six-handed final table, including sixth-place finisher Jonathan Abdellatif of Belgium, who Stepuchin "got to sit with … for a couple hours talking before we played."
"But everybody else I was (already) friends with," he said.
That included runner-up Shorr, a veteran poker pro who Stepuchin confessed had "exponentially more experience and knowledge" than himself.
"I admit it; it's the truth," said Stepuchin. "I've read one beginner poker book ever. I don't study anything. I've been saying I'm going to go get coaching (with Alex) Foxen or Kristen (Foxen) or with Chance (Kornuth), because obviously there's tons of knowledge I could absorb and learn. But I kind of just play by the seat of my pants."
"And fortunately, I won the very last hand, because if I didn't win the very last hand, Shannon and I would have been like even in chips. Before that very last hand I had a big lead the whole way, but then he won several hands in a row. It could have flipped instantly. I'm glad I didn't … get even with him and then have to really start trying to battle. Because he's a super-opponent, of course."
Still the Life of the Party
Though not yet at another final table with hundreds of thousands of dollars on the line, Stepuchin has already gotten the party started at Gardens Casino.
"He's in the room," Gardens Casino Tournament Manager Cavin Quintanilla announced as Stepuchin, a Gardens Casino regular who spent 14 years living in the adjacent Manhattan Beach, made his Day 1a entrance. "He's a shy guy; he's got a chicken wing in hand."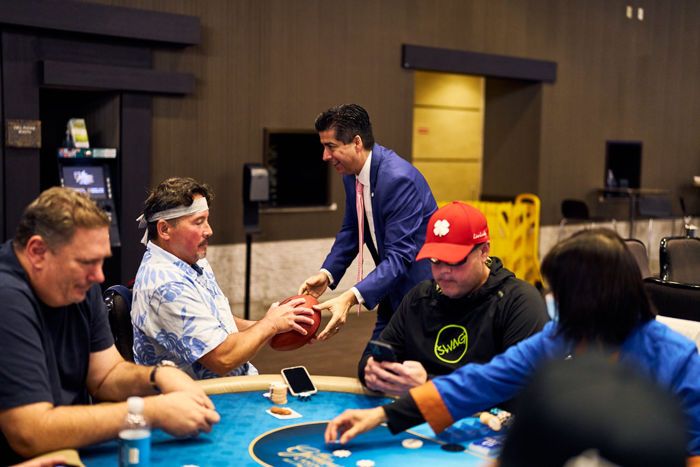 Just a few hours later and Stepuchin was geared up. He tossed his football across the table as Buckner ran to score a touchdown. He darted around the room as he was playfully chased and grabbed by Qartomy, one of his buddies from the final table in 2019.
Though he has far more friends than enemies in the poker community, Stepuchin acknowledged that his antics aren't for everyone.
"There's kind of some, I don't know, cliquiness is kind of as strong word, but some groups … of pros (who) don't like these other guys. And I think I'm friends with maybe more (players) than anybody."
There's far more to "Frank the Tank" than his antics let on. He wasn't thinking about beer and chicken wings as the final card landed in 2019 that made him a WPT champion, but rather about how it would have made his late mother feel.
"When they held me up on stage when we were done, I was thinking about my mom and how happy she'd be," he said with watery eyes. "I always start to tear (up) as soon as I talk about my mom."
*Images courtesy of WPT.