The LIPS Nevada State Ladies Championship, which took place at South Point Casino in Las Vegas April 19-23, included six events with Tammy Ehrhart being the biggest winner of them all.
Play began on the 19th with the $200 Mini Main Event, a no-limit hold'em tournament. There were a total of 208 entrants in the field and it came down to a two-way chop between Marsha Adams and Svetlana Gromenkova, each receiving $5,809.
In Event #2: $200 Team Championship, the winning team — The Portland Punters — had some familiar faces, including the reigning GPI Female Player of the Year, Angela Jordison, along with Jacki Burkhart, Devin Sweet, Jennifer Bernard, and Christina Gollins.
Each player from the squad that hails from Oregon collected $1,650 for their efforts. The champs beat out another talented team — The Stackers — in heads-up play, which included Mid-States Poker Tour (MSPT) champion Kyna England and the two-time Nevada State Ladies Champion, Ruth Hall.
Jordison Recognized as GPI Female Player of the Year
There's a New Champion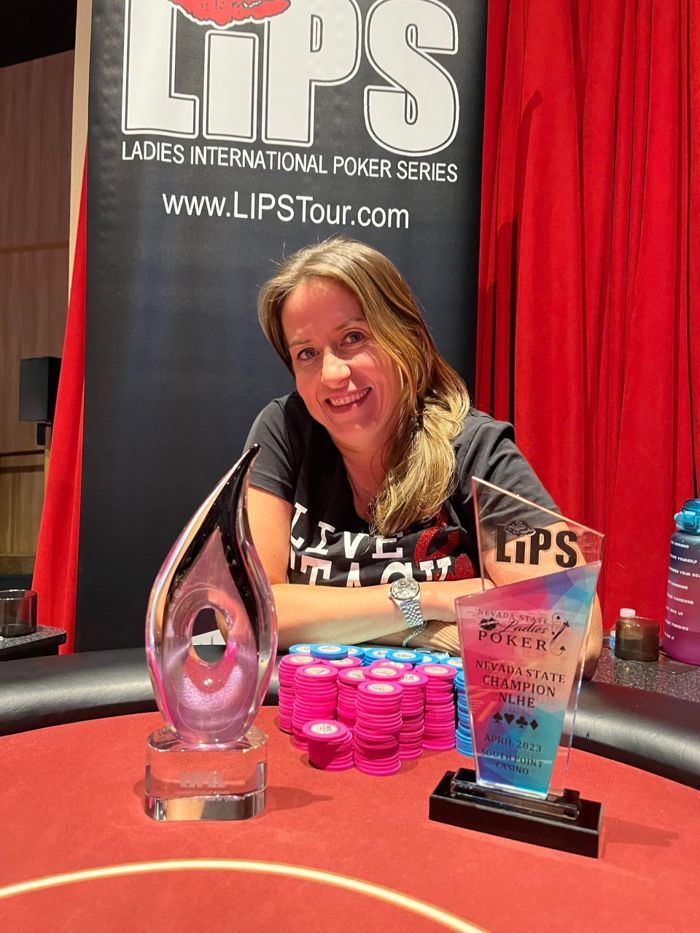 Hall was the defending champion in the Main Event, a tournament she also won in 2015. Despite battling through some serious health conditions, she had a title to defend and made the trip to Las Vegas.
Unfortunately, for Hall, who lives in Texas and grew up in Urbandale, Iowa, she ran her pocket queens into pocket kings and was eliminated short of the money. That meant a new champion would be crowned, and that individual is Tammy Ehrhart, who won via a three-way chop along with Joan Short and Evangeline Ayed. Each player collected $14,134 in the chop.
The series included a mix of poker variants, including no-limit hold'em and Omaha/8. It also featured a fun $180 buy-in Pajama Jam event where the players were encouraged to dress in pajamas. Nooria Miskell won that tournament, which attracted 69 entrants, for $2,797.
LIPS Nevada State Ladies Championship Full Results
| Event # | Tournament | Entries | Winner | Prize |
| --- | --- | --- | --- | --- |
| 1 | $200 Mini Main Event | 208 | Two-Way Chop | $5,809 |
| 2 | $200 US Team Championship | 275 | Portland Punters | $1,650/each |
| 3 | $360 LIPS Nevada State Ladies Championship | 331 | Tammy Ehrhart | $14,134 |
| 4 | $180 Pajama Jam | 69 | Nooria Miskell | $2,797 |
| 5 | $180 Poker Queen Round Up | 53 | Yolanda Navarrete | $2,226 |
| 6 | $240 Omaha/8 Championship | 30 | Five-Way Chop | $1,200 |
| 7 | $180 NLH Survivor Bounty | 100 | Multiple | $900 |