Prior to the start of the heads-up poker match, Nikhil "Nik Airball" Arcot talked the talk. Slightly over halfway through the high-stakes competition and it's been Matt Berkey who has been walking the walk.
The $200/$400 no-limit hold'em contest has been taking place at Resorts World in Las Vegas since early April. In the weeks prior, Airball took shots at Berkey, referring to the Solve for Why poker training site founder as a "scammer" and talked down on his poker skills.
Berkey's reputation within the poker community has never been that of a scammer and there are many Solve for Why customers who have stood up for the Only Friends podcast host following Airball's repeated attacks. Still, Airball's had an opportunity to back his mouth up on the felt by dominating the supposed "scammer." Thus far, it's been the other way around.
Berkey Proving His Poker Skills?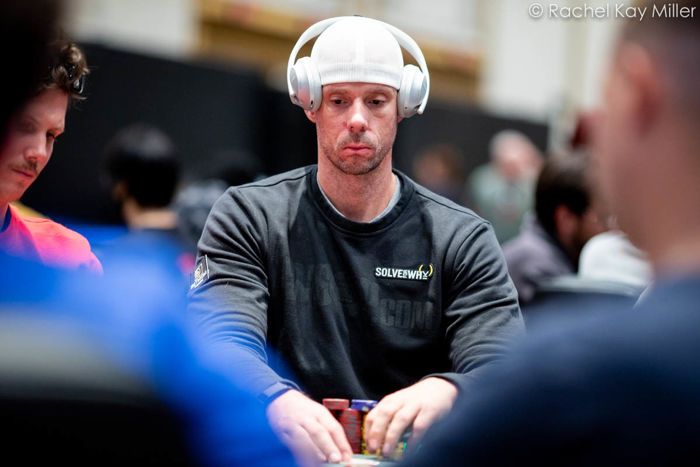 The heads-up battle between the feuding poker players is scheduled to last 100 hours or until one player is down $1 million, if that player decides to quit. Following Sunday's session, the two have played 55 hours and Berkey is up $659,800, per Landon Tice's Twitter reports.
There isn't a live-stream or any video of the action, which makes it difficult for poker fans to truly determine just how much of the score differential is due to skill and how much is due to variance — 55 hours of live poker isn't exactly some massive sample size.
That said, Berkey has won significant amounts two of the past three sessions. On Day 6, he booked a $379,000 win and then on Day 8 — Sunday — he left Resorts World with a $353,000 profit.
According to Tice, Airball opted against playing Monday's scheduled session and will pay the $10,000 penalty as a result, which is included in the overall score.
They're scheduled to return to action this coming Saturday.
Still Time for a Comeback?
Early in the match, it appeared that Nik Airball might make the game more competitive than some anticipated. At the quarter pole, he held a $90,000 lead and was riding high. His friends on Twitter, most notably Eshaan "Brownballa" Bhalla and Lynne Ji, were celebrating like Airball had already pulled the upset.
Since then, however, Berkey has dominated to the tune of a profit exceeding $750,000 over the past five sessions. On one hand, that's a bad sign for Airball. But on the other, it just goes to show how quickly things can turn around in heads-up no-limit hold'em, which means he's far from down and out.
Of course, another brutal session for Airball would help Berkey reach the $1 million mark before they play 100 hours.