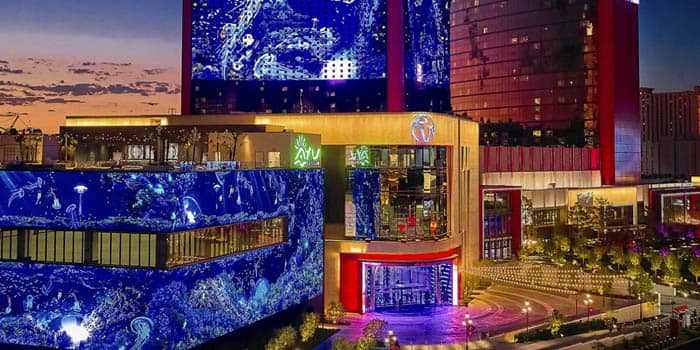 Resorts World Las Vegas, an integrated casino resort on the Las Vegas Strip, announced a new initiative aimed at raising awareness about cyberbullying during this year's March Madness.
Fan Engagement Event
Resorts World Las Vegas teamed with non-profit Buckets Over Bullying to host "Full Court March" and raise cyberbullying awareness during the National Collegiate Athletic Association (NCAA)'s college basketball tournament this month. For that purpose, Resorts World will set up an indoor basketball court at the resort's retail center, The District.
At Resorts World Las Vegas, we believe in the power of sports to bring people together and promote positive change.

Lori Flahive-Caldero, executive director of Community Engagement of Resorts World Las Vegas
Flahive-Caldero is proud to partner with Buckets Over Bullying for "Full Court March" and stand against cyberbullying.
For three weeks starting March 14, the Full Court March fan experience at Resorts World Las Vegas will allow the casino resort and the non-profit to bring attention to the growing crisis of youth cyberbullying that is spreading like wildfire nationwide, with more than a third of all students reported as being victims of it before finishing high school.
"We hope this event will inspire our community to come together and promote kindness, respect, and inclusion both on and off the court," Flahive-Caldero concluded.
Sports Personalities at the Center
The initiative will feature basketball trick shot expert and current Buckets Over Bullying board member, Tristan Jass, "TJass," and the one-time tallest basketball player at the NCAA Division I level, hoopster Mamadou N'Diaye. TJass and N'Diaye will showcase their talents and engage with the fans through drill sessions and basketball challenges.
"I deeply believe in the work that Buckets Over Bullying is doing and I am confident that we can make a real difference," commented TJass, eager to get on the court and engage with the fans.
He also paid tribute to Nate Bronstein, a 15-year Chicago sophomore and TJass fan who lost his life to suicide in 2022 after being cyberbullied on social media by classmates at the Latin School of Chicago.
Another Buckets Over Bullying board member, Pauly Urdan, a.k.a. chi.town.pauly, will be the event's MC, upping the energy levels, while throughout the event fans will be presented with T-shirts and other prizes.
Cyberbullying Awareness Messaging
During the event, cyberbullying awareness messages will be displayed on the West Tower screen, the LED globe in The District, and at various locations at Resorts World. The messages will include a QR code to take the pledge: "I Will Never Use My Device as a Weapon!"
The co-founder of Buckets Over Bullying, Rose Bronstein, was "extremely grateful to Resorts World Las Vegas, Tristan and Mamadou" for their contribution to help "educate and compel action by both youth and adults to combat this scourge."
"No one should have to endure the grief and suffering cyberbullying has forever inflicted upon our family," she added, urging for better cyberbullying abuse protections from the dangers of the digital world that is now part of a child's life.
According to multiple clinical studies, adolescents and teens are up to four times more likely to inflict self-harm, attempt or commit suicide if cyberbullied.