This year marks the 10th anniversary of Ryan Riess winning the 2013 World Series of Poker (WSOP) Main Event and forever etching his name in poker history. Last month also marked the sixth anniversary of his becoming a World Poker Tour (WPT) champ when he took down the WPT Seminole Hard Rock Poker Showdown for $716,088.
That year, the $10,000 buy-in tournament attracted 349 runners, whereas this year had 2,290 entries, albeit at a more affordable $3,500 buy-in. Riess navigated his way through the massive field and notched a deep run, ultimately busting on Day 3 in 28th place for $31,500.
"This is actually, I was thinking about it this morning, this is actually my favorite place to play poker in the world," Riess told PokerNews. "It's the only place I travel to really outside of the Bahamas. I live in Vegas, I play a lot there, but I don't really travel anymore now that I have a family. I love it here. It's just my favorite place to play."
Read About Ryan Riess's WPT Win Here!
10th Anniversary of WSOP Win
Riess, originally from Michigan (he's the Wolverine State's all-time money leader) but now residing in Las Vegas, has amassed just over $16 million in career tournament earnings according to the Hendon Mob. That currently puts him in 51st place on poker's all-time money list.
About half of that – $8,361,570 to be exact – came when he bested a 6,352-player field to win the WSOP Main Event by defeating Jay Farber in heads-up play.
"Yeah, it's pretty cool," Riess said about the 10th anniversary of his life-changing victory. "I've had a few people ask me on this trip. It's kind of cool to relive it, to think back and remember it because 10 years is a big deal. It's like a cool anniversary. I love playing poker. Someone asked me yesterday, they said 'After you win the Main Event why do you still play, you can't do better than that?' You know, I just love the game. I love competing."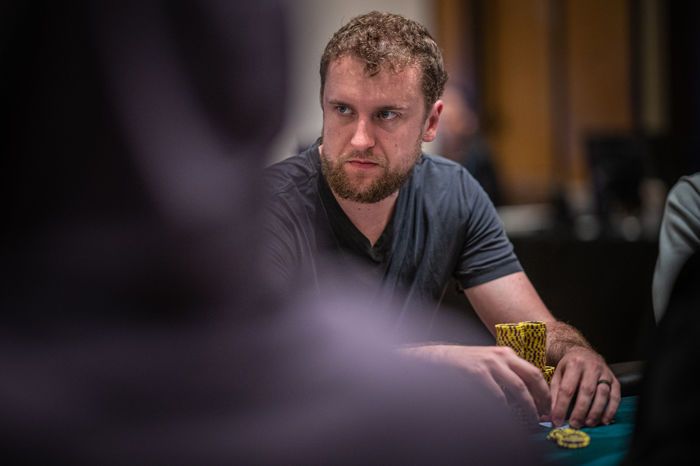 Becoming a Family Man
While poker has remained a constant in Riess's life, a lot has changed. Most notably, he started a family.
"I have three kids and my wife, she is Ukrainian, and her parents actually came over," he shared. "They escaped the war over there and they're actually staying with us too. So, we have a full house, a lot of people but it's awesome."
The war in Ukraine continues to be a hot-button issue for many in the poker world; in fact, last year PokerNews even spoke to Eugene Katchalov shortly after he and his family fled the county. For Riess, it also had a major impact on the life of his family.
"It was not fun. I've spent a lot of time in Ukraine too," he explained. "My kids were born there, and I had an apartment there. I know a lot of people there so it's a very unfortunate situation. Hopefully, everything will be okay."
Passion for Poker
Since winning the WSOP Main Event, Riess has had some impressive years. In 2017, he had $1,810,957 in tournament winnings and surpassed that the following year with $2,220,159. In 2019, he made it three years in a row with seven-figure scores by winning $1,687,395.
With down years in 2020-21, due primarily to the pandemic, Riess returned in 2022 and amassed $827,691 in winnings. While many past WSOP Main Event champs prove to be one-and-done, Riess has shown time and again that he has what it takes to compete in poker.
"I put a lot of time into the game preparing and trying to get better."
"Oh yeah, it has gotten a lot harder. I mean back when I won there were no solvers, everyone was kind of just clicking buttons," he said. "Now there are a lot of tools to be really good if you choose to use them. So yeah, the game is a lot harder but still fun."
He continued: "I put a lot of time into the game preparing and trying to get better. So, I have a lot of really good friends who are really good at poker, so I talk with them and we're all just trying to get better. But I think I can compete with the best so I'm not going anywhere."
Well, one place he will be going is back home to Las Vegas, where in a month's time he will be competing at the World Series of Poker and looking to recapture the magic he experienced a decade ago.
For more on Riess, follow him on Twitter at @RyanRiess1.
*Images courtesy of WPT/Drew Amato.

Executive Editor U.S.

Executive Editor US, PokerNews Podcast co-host & 2013 WSOP Bracelet Winner.