Mike Matusow used patience and persistence to grind out a $20,000 win against Shaun Deeb on the High Stakes Duel IV undercard Friday afternoon on PokerGO.
"The Mouth" didn't pick up many monster hands — neither did his opponent — but he avoided having one of his patented meltdowns. The $10,000 buy-in no-limit hold'em heads-up competition lasted approximately three hours and went back and forth throughout.
Both players came to play and there wasn't much in the way of punting going on. It was certainly a grind as the big pots were few and far between, and Matusow had to battle to earn that victory. Early on, Deeb was in control, but never could pull far ahead. He simply couldn't ever find the right spot to take down a game-changing pot.
Matusow Regains the Lead
About 30 minutes into the match, Matusow raised from the button to 600 with 10♠7♠ and received a call from the big blind with K♣8♦. The flop was 8♠K♠2♣ and the under-the-gun player checked top two pair and then called a bet of 600.
When the J♠ appeared on the turn, completing Matusow's flush, the action went check, 2,500 bet, call. Following the 4♣ on the river, Deeb checked and then was faced with a bet of 8,000, to which he couldn't fold.
Matusow turned over the flush, took down the pot, and moved into the lead by the narrowest of margins. Shortly after, Deeb would regain a 60/40 advantage when he pulled of a bluff with eight-high on the river because Matusow missed his straight and flush draw and couldn't call the bet.
Throughout the first hour, Deeb had solid control on the match and won 42 of the first 61 hands dealt, but never could win a massive pot. Matusow would start to pick up small pots to even things up again despite having won only about a third of the pots.
Matusow Attempts a Bluff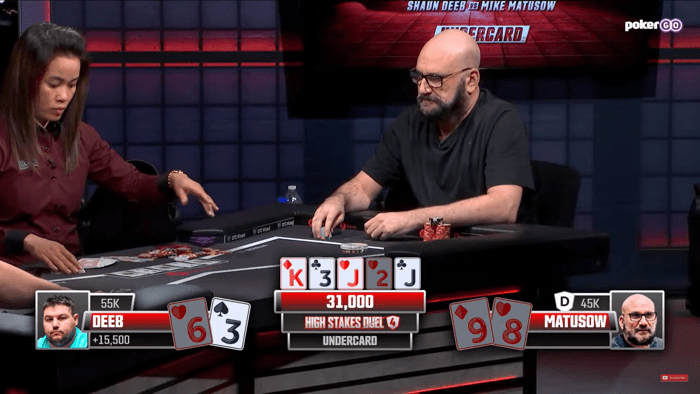 Throughout the first 90 minutes of the match, there weren't any major swings. Deeb won numerous small pots for the first hour, and then Matusow returned the favor. But neither player had made any big moves or won a huge hand on a cooler.
Nearly two hours into the game, "The Mouth" decided it was time to make a play. With 9♦8♥ and 16,000 in the pot on a board of K♦3♣J♥2♥J♣, he bet 7,500 and correctly read his opponent for having a marginally weak hand. The only problem for him was Deeb decided to get stingy with 6♥3♠ and made a great call to regain a small lead.
Moments later, Matusow fell further behind but made a wise decision to avoid potentially busting. Deeb opened to 1,600 with J♠J♦ before the big blind three-bet to 5,100 with A♣9♥, a play that didn't work out because his opponent then re-raised to 12,500, which convinced Matusow, who dropped to just below 30,000, to fold the inferior hand.
The match would start to go the other way when Matusow made a brilliant value bet with a pair of fours on the river to get a call from a pair of deuces to win a 19,800-chip pot, one of the key hands of the game.
Shortly after, on a board of 9♦K♣8♦5♣ and 8,800 in the pot, "The Mouth" went for an almost pot-sized bet (8,000) with K♥10♠ and received a call from 8♥7♥. The J♠ on the river didn't help either player, so they both checked and Matusow took down another key pot to move back into nearly a 60/40 advantage.
Matusow would then take Deeb to Value Town with trips with a 5,000-chip bet on the river and earned a call from queen-high. He had completely taken control of the match
Moments later, Deeb would again call off a river bet without a pair, this time AxKx, and lose to a rivered top pair in a 21,000-chip pot. Nearly three hours into the session, Deeb's stack had dwindled down to under 20 big blinds.
On the final hand, Deeb moved all in for 19,500 with Q♣10♠ and was quickly called by K♠J♦. The board came out 5♣2♠4♥4♣9♣. Matusow took down the pot and the $20,000 prize pool.
The High Stakes Duel IV main card will take place May 8-9 on PokerGO with Daniel Negreanu, who is 0-3 on the show, will face loudmouth casino owner Eric Persson. Each player will be in for $50,000 in Round 1 and then the loser will pay $100,000 to enter Round 2.
*Images courtesy of PokerGO.