Winning an online poker tournament that has more than 1,200 entrants is no easy feat, especially when that tournament costs $109 to enter. So imagine how difficult it would be to not only win the same tournament twice, but to become its champion in consecutive weeks. That, readers, is what Team PartyPoker's Patrick "Patrick_Leonard" Leonard achieved this weekend.
Leonard came out on top of the $109 buy-in $150,000 guaranteed Sunday Party last weekend. The popular Brit outlasted and outfoxed 1,353 opponents on his way to claiming a total first-place prize worth $18,747. This week, Leonard did the unthinkable and navigated his way through another 1,236 opponents to not only become the Sunday Party's first-ever double winner but to triumph in PartyPoker's flagship weekly tournament on back-to-back weeks.
The $150,000 Gtd Sunday Party Final Table Results
| Place | Player | Bounties | Prize | Total Prize |
| --- | --- | --- | --- | --- |
| 1 | Patrick_Leonard | $8,480 | $10,237 | $18,717 |
| 2 | Primordial | $1,333 | $10,220 | $11,553 |
| 3 | KAURAMAIT0 | $3,038 | $6,760 | $9,798 |
| 4 | Deano_T8 | $293 | $4,380 | $4,673 |
| 5 | Belgrade1111 | $1,524 | $2,986 | $4,510 |
| 6 | new name cba | $761 | $2,298 | $3,059 |
| 7 | Jack Harlow | $853 | $1,689 | $2,542 |
| 8 | SharkNoScope | $529 | $1,341 | $1,870 |
| 9 | NeoTheOne71 | $456 | $1,061 | $1,517 |
Mid-afternoon on April 23, Leonard tweeted to his 37,200 followers that he had a good feeling about the day. Later on, he fired another tweet showing his grind station, which included what he described as his lucky coin. Regardless of whether the coin is lucky or not, Leonard found himself in pole position when Day 1 concluded with only 16 players in the hunt for the title of champion.
Leonard later revealed PartyPoker had said they would rename the Sunday Party to the Pads Banana if he went all the way in consecutive weeks. Well, let us see if they do that because "Pads" did take it down again.
Super Patrick Leonard Wins the PartyPoker $150K Gtd Sunday Party
"NeoTheOne71" bowed out in ninth for $1,517 before "SharkNoScope" crashed out in eighth for $1,870. The elimination of "Jack Harlow" for $2,542 left the table short-handed, something that Leonard revels in.
Sixth place and $3,059 went to "new name cba," "Belgrade1111" claimed the $4,510 fifth-place prize, while "Deano_T8" came unstuck in fourth, a finish good for $4,673.
Heads-up was set when "KAURAMAIT0" ran out of steam, although the $9,798 they collected for their third-place finish will go some way to numbing the pain of progressing so deep but still coming up short. KAURAMAIT0's prize was so substantial because they banked $3,038 worth of bounties, the second-most of any entrant.
Leonard and "Primordial" fought it out one-on-one, and with all due respect to Primordial, this contest was only going to go one way once Leonard had his sights on setting a new record. Leonard came out on top to become the first-ever Sunday Party dual winner and first-ever back-to-back champion, and to bank $18,717. Primordial's consolation prize weighed in at five figures, too, namely $11,533.
Do You Know The Fastest Way to Earn PartyPoker Cashback?
Can Leonard Complete an Incredible Hat Trick?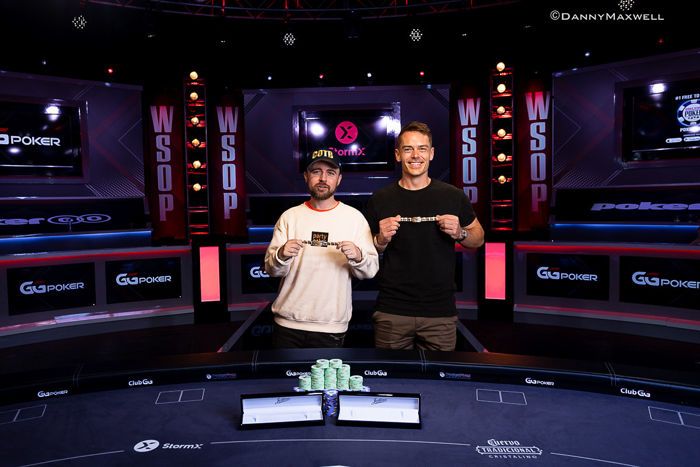 April 30 at 7:05 p.m. BST is when the next edition of the Sunday Party takes place. This week's even has a $125,000 guaranteed prize pool, and it would be a significant shock if Leonard is not among the entrants as he attempts to do the unthinkable and win the same online poker tournament three times in a row.
If you fancy attempting to spoil Leonard's party, download PartyPoker via PokerNews and try to become the Sunday Party's champion,
Make a deposit of at least $10 to receive a 100% match up to $600 welcome bonus in addition to up to $30 worth of free play.
A $10 deposit yields $10 worth of tickets over the course of a week:
Day 1: 2x $1 SPINS tickets + 1x $5.50 MTT ticket
Day 2: 4x $0.25 SPINS tickets
Day 4: 1x $3.30 MTT ticket
Day 6: 4x $0.25 SPINS tickets
Increase your deposit to at least $20, and the following ticket package is yours:
Day 1: 1x $5.30 MTT ticket
Day 2: 2x $1 SPINS ticket
Day 3: 1x $5.50 MTT ticket
Day 4: 1x $5.50 MTT ticket
Day 5: 3x $2.20 MTT tickets
Day 6: 2x $3 SPINS tickets + 1x$3.30 MTT ticket
Residents of the United Kingdom enjoy a slightly different welcome from PartyPoker. Their deposit of at least £10 comes with a 100% match up to £400 first deposit bonus plus $10 worth of Party Dollars, which can be used in any of the site's games every day for six days.
To release the total Deposit Bonus amount, you must accumulate four times the Deposit Bonus amount in loyalty points. Each time the player accumulates 10% of the Total Loyalty Points required, they will receive a 10% increment of the Deposit Bonus
There's More to PartyPoker Than the Sunday Party Tournament
PartyPoker recently revamped its online poker tournament schedule, and the changes have been a major hit with its army of customers. Here at PokerNews, we have created the PokerNews Online Tournament Calendar, a customizable tool that allows you to quickly and easily find the perfect tournament for you. PartyPoker is one of the online poker sites our free-to-use tool works seamlessly with, so why not give it a try today?