Patrick "pads1161" Leonard helped himself to his seventh PokerStars Spring Championship Of Online Poker (SCOOP) title on May 22 by taking down the $5,200 No-Limit Hold'em Progressive KO Titans event.
Leonard's latest result under his "pads1161" screenname saw him add a monster-sized $197,115 to his bankroll. Leonard's triumph also prolonged PokerStars ambassador Lex "L. Veldhuis" Veldhuis' SCOOP draught, with the Dutchman still searching for his maiden SCOOP title.
SCOOP 75-H: $5,200 NLHE PKO Titans Event Final Table Results
| Place | Player | Country | Bounties | Prize | Total Prize |
| --- | --- | --- | --- | --- | --- |
| 1 | Patrick "pads1161" Leonard | United Kingdom | $126,093 | $71,022 | $197,115 |
| 2 | PAX176 | Poland | $10,312 | $71,022 | $81,334 |
| 3 | retro_cheetah01 | Poland | $10,312 | $50,301 | $60,613 |
| 4 | Haringbuis | Malta | $9,843 | $37,876 | $47,719 |
| 5 | milanov888 | Bulgaria | $11,640 | $29,421 | $41,061 |
| 6 | Jonathan "x_zola25" Skovsen | Denmark | $15,546 | $22,854 | $38,400 |
| 7 | Lex "L. Veldhuis" Veldhuis | Belgium | $9,375 | $17,752 | $27,127 |
| 8 | Pedro "PaDiLhA SP" Padilha | Brazil | $15,781 | $13,790 | $47,786 |
| 9 | Felipe "lipe piv" Boianovsky | Brazil | $18,125 | $11,363 | $29,488 |
Some 154 PokerStars players bought into the $5,200 Titans event and created a $770,000 prize pool. Usually, the Titans is played as a traditional No-Limit Hold'em tournament, but this one was played as a PKO, meaning there were some massive bounty payments along the way.
Day 1 concluded with only nine players after a raft of superstars bowed out. Team PokerStars' Benjamin "Spraggy" Spragg crashed out in 42nd place, missing out on some main prize pool money but banking a $2,500 bounty before he busted.
Ognyan "cocojamb0" Dimov was the unfortunate bubble boy, although he picked up over $6,500 worth of scalps before leaving the tournament in 18th place.
The likes of recent SCOOP champion Elias "SinKarma" Gutierrez, Conor "1_conor_b_1" Beresford, and PokerStars ambassador Sam "SamSquid" Grafton joined the list of busted players, Grafton being eliminated in tenth place, setting the final table, and bringing the curtain down on Day 1's proceedings.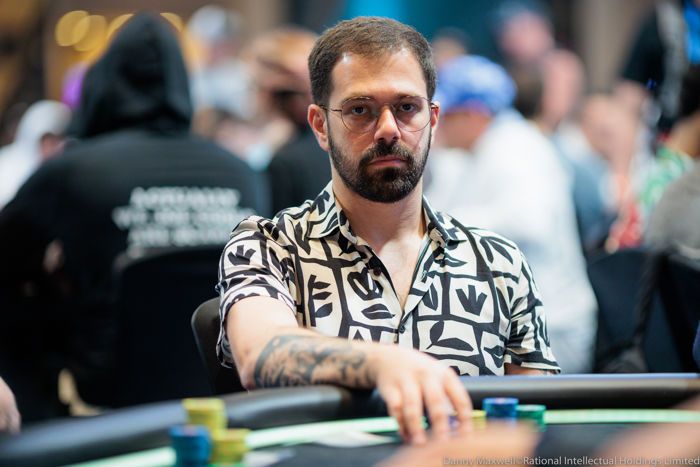 It took an hour for the first player to bust from the final table, and Felipe "lipe piv" Boianovsky was that initial casualty. Boianovsky lost all but a handful of big blinds after turning two pair with king-queen but lost out to Jonathan "x_zola25" Skovsen's turned Broadway straight.
Boianovsky finally open-shoved for under six big blinds with ace-deuce of diamonds and ran into the dominating ace-queen of "PAX176". The Brazilian bowed out, while PAX176 claimed their first bounty of the tournament.
Despite taking some time to lose the first player, the tournament was then done and dusted following another 70 minutes of play.
Pedro "PadILhA SP" Padilha lost half of his stack in a battle of the blinds with Veldhuis, the latter holding pocket aces against Padilha's ace-trey. A couple of hands later, Padilha shoved for 6.5 big blinds with pocket kings, "milanov888" reshoved with pocket nine and flopped a set to send Padilha out in eighth.
Veldhuis was third in chips at the start of seven-handed play, but he still fell by the wayside in seventh thanks to a disgusting hand against Leonard.
With blinds of 100,000/200,000/25,000a, Veldhuis made it 410,000 from early position with ace-five of hearts, and Leonard called in the big blind with queen-ten. The flop fell queen-king-ten with two hearts, and Leonard check-called a 300,000-continuation bet. The turn was an offsuit queen, gifting Leonard a full house. Leonard checked, and Veldhuis checked behind. The three of hearts completed the board, improving Veldhuis to an expensive second-best hand. Leonard paused before moving all in, and Veldhuis called off his 4,776,878 stack. Ouch.
Skovsen was the next player to fall victim to Leonard. The Dane open-shoved from under the gun for a shade over 7.5 big blinds with pocket fives; Leonard re-shoved with ace-jack from the next seat along and spiked an ace on the turn.
Leonard now held 22.7 million chips, over seven million more than all the remaining players' stacks combined; it was his tournament to lose.
A Leonard victory drew closer with the untimely demise of Bulgaria's milanov888, who ripped in their last four big blinds with ace-jack and lost to the eight-six of Leonard courtesy of an eight on the turn and a six on the river.
Malta's "Haringbuis" was eliminated in fourth, and it was Leonard that claimed the scalp. Leonard raised enough to set everyone else all in, doing so with eight-five of spades. Haringbuis called with ace-jack of clubs. Haringbuis flopped a jack, but Leonard's sun run continued with him improving to a flush on the turn!
Talbot Falls Short as Dzivielevski Bags Second SCOOP Title of 2023
Leonard's one-man wrecking crew of the final table continued with the head of "retro_cheetah01." They initially limped with ace-queen in the small blind before jamming over the top of Leonard's 720,000 raise for their last 14 big blinds. Leonard called with ace-ten of clubs and flopped a flush to send the Titans event into heads-up.
PAX176 went into the one-on-one battle with Leonard trailing by more than seven-to-one, and it did not take long for Leonard to clinch the title. The final hand was typical of Leonard's incredible run.
PAX176 jammed seven-six for ten big blinds, and Leonard called with pocket fours. The five-eight-four flop gave PAX176 a straight, but Leonard had a set. Another five on the turn gave Leonard a full house, rendering the river meaningless.
Leonard picked up $197,115 in total, including $126,093 from the bounty prize pool, almost double the size of first-place prize money! PAX176 headed into the night with $81,334 to show for their runner-up finish.
Grafton is the Bridesmaid in the $1,050 Sunday Warm-Up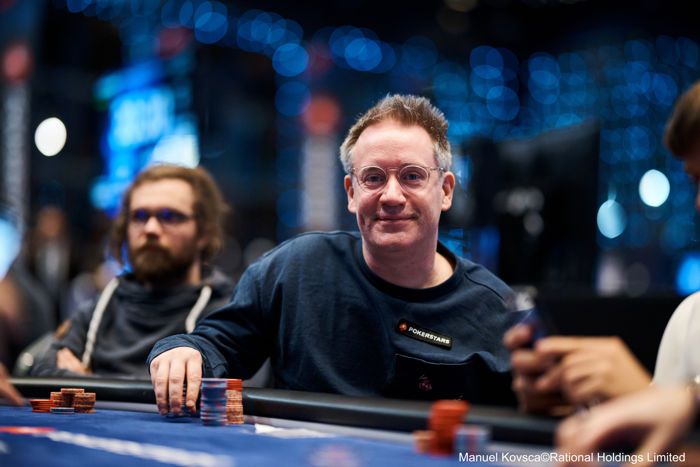 Grafton narrowly missed out on 2023 SCOOP glory, but the $81,003 he picked up for his runner-up finish should go some way to numbing the pain of not winning.
Grafton was one of 635 entrants in SCOOP 754-H: $1,050 NLHE Sunday Warm-Up, with those entrants smashing the $435,000 guarantee out of the water by almost $200,000.
The top 79 finishers received a slice of the pie. Those in-the-money players included such luminaries as Parker "tonkaaaa" Talbot, Dzmitry "Colisea" Urbanovich, and the one and only Patrick "pads1161" Leonard, the latter falling in tenth and popping the final table bubble.
The nine-handed final table was equally, if not more, star-studded. Andy "BowieEffect" Wilson, Chris "ImDaNuts" Oliver, Dejan "dejanlc357" Kaladjurdjevic, and third-place finisher Tomi "elmerixx" Brouk were all in contention at one stage.
Grafton found himself heads-up against Finland's "PotnaPekka" in what was a $30,000 one-on-one clash. The Finn tripped Grafton up at the final hurdle and helped themselves to $110,835, resigning Grafton to a still very respectable $81,003.
SCOOP 74-H: $1,050 NLHE Sunday Warm-Up Final Table Results
| Place | Player | Country | Prize |
| --- | --- | --- | --- |
| 1 | PotnaPekka | Finland | $110,835 |
| 2 | Sam "SamSquid" Grafton | United Kingdom | $81,003 |
| 3 | Tomi "elmerixx Brouk | Finland | $59,201 |
| 4 | Dejan "dejanlc357" Kaladjurdjevic | Montenegro | $43,267 |
| 5 | Chris "ImDaNuts" Oliver | Costa Rica | $31,622 |
| 6 | neeno1990 | Austria | $23,111 |
| 7 | Hulaaaa | Ukraine | $16,890 |
| 8 | Andy "BowieEffect" Wilson | United Kingdom | $12,344 |
| 9 | CPUrul0r | Austria | $9,983 |
Birthday Delight for Spragg; Veldhuis Looking to Shake Off SCOOP Hoodoo
Other Notable SCOOP Victories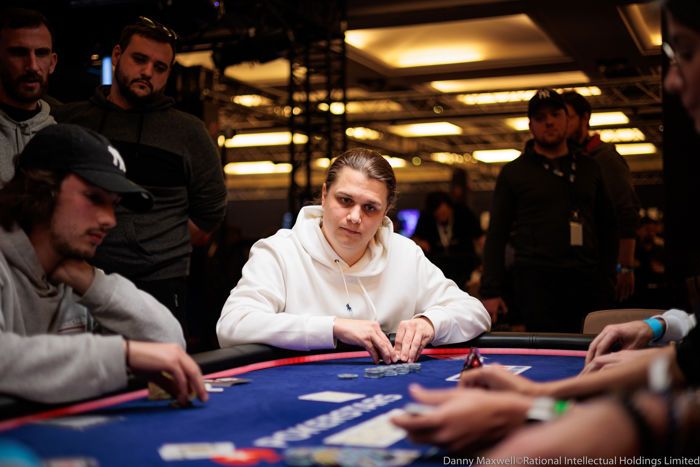 A special mention must go to Niklas "Lena900" Astedt, who triumphed in two SCOOP events, the seventh and eighth of his career. Astedt took down a $530 NLHE PKO event for $42,610 and a $215 NLO8 6-Max PKO for an additional $16,022.
| Event | Entrants | Prize Pool | Champion | Prize |
| --- | --- | --- | --- | --- |
| #77-H: $1,050 NLHE | 603 | $603,000 | 13santoy13 | $105,249 |
| #77-M: $109 NLHE | 4,440 | $444,000 | Juppenpuppen | $63,287 |
| #76-H: $2,100 NLO8 6-Max PKO | 89 | $178,000 | Andrey "Premove" Skvortsov | $61,969* |
| #73-H: $530 NLHE PKO | 508 | $254,000 | Niklas "Lena900" Astedt | $42,610* |
| #76-M: $215 NLO8 6-Max PKO | 433 | $86,600 | Niklas "Lena900" Astedt | $16,022* |
*includes bounty payments