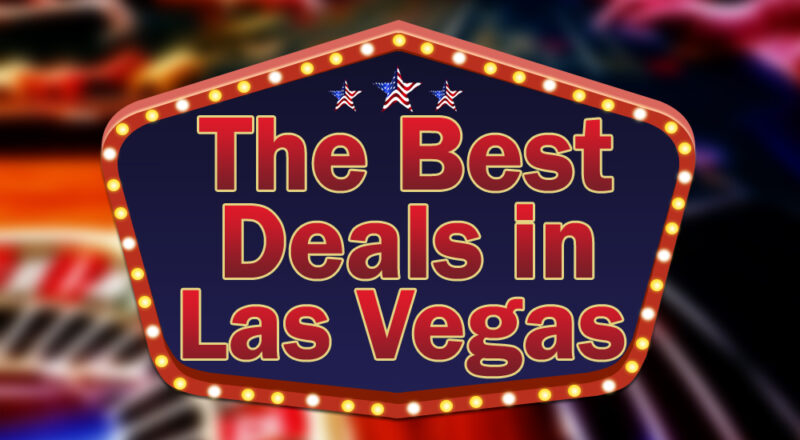 See the best Las Vegas casino promotions! Come back the second Sunday of each month to find the best values in Las Vegas. Updated by Scot Krause, our Las Vegas promotions reporter. 
Here's what we found!
Strat: August promos:
—True Rewards New Member "Pick-A-Prize" Kiosk Game: From Tuesday, Aug. 1 through Thursday, Aug. 31, True Rewards members who earn 25 same-day base points in the first 24 hours of membership while playing reels, video reels, video poker and electronic keno machines will receive an entry for the new member "Pick-A-Prize" kiosk game at the True Rewards kiosk. Every entry is guaranteed to win up to $1,000 in free slot play, up to $20 in dining credit, Tower admission for two guests or a two-night stay in a suite at The STRAT. Maximum of one entry per True Rewards account. Additional information is available here.
—$25,000 Pirate's Treasure Slot Tournament: On Friday, Aug. 11 and Saturday, Aug. 12, guests may play in the three-round slot tournament for a buy-in of $50. The top 75 point-earners will win prizes up to $6,000 in slot play, and there will be $50 hot seat winners for each round of the tournament. Additional information is available here.
—Summer Nights "Pick-A-Prize" Kiosk Game: Every Monday, Tuesday and Wednesday from Monday, July 31 through Wednesday, Aug. 30, True Rewards members who earn 300 base points while playing reels, video reels, video poker and electronic keno machines will receive an entry for the Summer Nights "Pick-A-Prize" kiosk game at the True Rewards kiosk. Every entry is guaranteed to win up to $5,000 in free slot play. There will be a maximum of 15 entries per day per True Rewards account. 
FREE Casino Coupons – Get a FREE $50 match play bet, plus other great deals with the FREE casino coupons on our website and apps. To see what FREE coupons are currently being offered, visit our Las Vegas Casino Coupons page  There are 16 coupons that you can print out yourself and we continue to add new coupons, so please check back often. 
Sahara: Locals only specials at Balla Italian Soul. Every Tuesday – 50% off select steaks. Every Wednesday – 50% off ALL bottles of wine.
Play to Earn Gas Gift Card: Every Tuesday in August from 5 a.m. to 10 p.m., Infinity Rewards Members can receive a $25 gas gift card for every 3,000 base slot points or 3,000 tier credits earned. Maximum of four redemptions per Infinity Rewards account per day during the promotional period. Vouchers expire within 48 hours.
Arizona Charlie's Decatur and Boulder: Will host Hot Bingo Nights, a 24-hour bingo marathon with a grand prize of $1,000, beginning at 9 a.m. on Friday, Aug. 18 through 7 a.m. on Saturday, Aug. 19. Both Arizona Charlie's properties will host sessions every odd hour for 24 hours with exciting prizes. During all sessions, any player who hits bingo on B14 will win $500 in free slot play. All guests with a $4 buy-in will receive an electronic drawing entry for the chance to win one of the exciting grand prizes. The fourth- and fifth-place winners will receive mystery prizes, the third-place winner will receive $100 in bingo free play, the second-place winner will receive $500 in free slot play, and the first-place winner will receive a grand prize of $1,000 cash. Additionally, from 11 p.m. to 7 a.m., guests who play back-to-back sessions will receive a free electronic rainbow. Between 1 and 5 a.m., mystery prizes will be awarded to players. During the final session at 7 a.m. on Saturday, Aug. 19, the grand prize drawing will take place, plus all guests present will receive a free mystery gift.
FREE 14-day Gold Membership at videopoker.com – No credit card required! – videopoker.com is operated by Action Gaming, the developer of the most popular games including: 3-play, 5-play, 10-play, 100-play, Ultimate X, Quick Quads, and Super Times Pay. It's the only place you can play the same video poker games found in casinos. We have a special, exclusive offer that allows you to get a Free 14-day Gold membership and no credit card information is required! With this Gold membership, besides playing your favorite video poker games, you will also learn the proper strategies for playing all of your hands. Plus, you will have the ability to change the pay tables to match up to the same pay tables that you will find in the casinos where you like to play! Try it free for 14 days with no need to enter any credit information – only by using this link – www.videopoker.com/acg
Binion's: Million Dollar Display is now back after a three-year absence. The updated display now features a new background and automated process that lets you send the souvenir photo to your email address or phone. Located near the club booth. (Editor's note: Look for FREE coupons on the American Casino Guide Book app or website.)
Silverton: August Gaming Promotions:
—August 1-30 – Play for Prime Rib: Throughout the entire month of August, earn 200 same-day points and receive a kiosk coupon for a free prime rib dinner at Sundance Grill. One coupon per day, per guest, maximum.
—August 11, 12, 18, 19, 25 & 26 – Summer Travels Swipe N Win: Each Friday and Saturday in August, every 100 points equals one swipe for a chance to win prizes, including up to $5,000 in cash, Free Slot Play, dining and Guilt credits (gift shop) and mystery gifts. Bonus swipes are available by invitation only. (Note: coupon available in the app.)
South Point: $400,000+ Spin 2 Win. Beginning August 7 at 3 a.m., every Monday, Wednesday and Friday in the month, earn 1,000 same day points on slots or 3,300 points on video parker. Once points are earned, touch the U-Spin button on the machine to spin the wheel. Spin up to three times a day. Players can win up to 100,000 points or free play up to $100. (Note: print out our  free South Point coupon here – https://www.americancasinoguidebook.com/wp-content/uploads/2022/12/cou-23-south-point.jpg )
Arizona Charlie's (Both): Jackpot Win It Again Jackpot Campaign. Guests that hit a jackpot of $1,200 or more and sign a publicity agreement will be entered into Arizona Charlie's "win it again" drawing that will be held in December. Guests can begin earning drawing tickets daily and the promotion will last until Wednesday, Nov. 1.
FREE Slot Tournament with over $2,000 in prize money! – The publishers of the American Casino Guide have created a website to play in slot tournaments for FREE! A new tournament begins the first of each month and last all month long. No download is needed and you can play right away!  You get 7,500 credits to play and the top scorers win a  prize – and you can play up to five times for FREE! To play, or for more details, go to: https://www.freeslottournaments.com/  Please note that you must be 18, or older, to play. Good luck!
Palms: Win up to $1,000 in Free Slot Play for your birthday. Swipe your Club Serrano Card at any Club Serrano Kiosk once during your birthday month to receive Free Slot Play.
Jerry's Nugget: Player Appreciation Day, August 13. Get a limited-edition Jerry's Nugget travel mug at the Bingo Hall on Player Appreciation Day, August 13. Bingo times are 11 a.m., 1 p.m., 3 p.m., 5 p.m., 7 p.m., and 9 p.m. Buy-in with a $40 minimum buy-in for Player Appreciation Day gift, while supplies last. More information on daily bingo specials and the next $8,250 Big Game found online at https://www.jerrysnugget.com/casino/bingo/
Tuscany: Tuesdays: $2,500 Weekly Slot Tournaments : Open to the Public, must be a DaVinci Rewards member o Weekly $2500 Patriotic Slot Tournaments, 25 winners each week, all prizes paid in free slot play ▪ Earn 100 same day base points for each entry – earn up to 3 entries each week ▪ Winners have 24 hours to claim their prize.
Video Poker Training Software– One of the best ways to improve your playing skills is to use video poker software. By practicing with software you will easily be able to identify the best-paying machines in any casino, plus you will be able to practice playing those games so you can play at a near-perfect level. Our website has a page to get details on the bestselling video poker software:  Winpoker. It is available in both an instant download format, or on a CD to play on your Windows computer. For more information, go to our video poker software page.
Plaza: Egg Hatch Maker Kiosk Game every Sunday in August. Earn 25 base points every Sunday for the month of August for a chance to win up to $1,000 prior to swiping at the Kiosk to participate.
Silver Sevens: 16″ single-topping large pizza and a bucket of Miller High Life (4 bottles) for $21. Available Friday–Sunday at the City Café. (Note: coupon available in the app.)
MGM/Cosmopolitan: Cosmopolitan will join MGM Resorts International Rewards loyalty program on Feb. 1, 2024.
Rampart: Earn 50 same-day points & swipe at the kiosk for voucher to receive promotion. Get 50% Off One Buffet all day. Lunch served 11 am – 2 pm. Dinner served 4 pm – 8 pm. The full price for the August 14, 2023, buffet is $30.99 all day.
Get our FREE App! – We are no longer publishing our annual guide book with casino coupons. However, all of the detailed casino information from our book on all US casinos is now available for FREE on our website, as well as on our FREE iOS and Android apps. Get the American Casino Guide Android app NOW!    Or, download the iOS app NOW!   Also, if you already have the app installed, be sure to upgrade to the latest version to enjoy all of the benefits it offers.
Imagine Exhibitions: a leader in narrative-driven, immersive experiences is matching the hot weather with its hottest deal of the summer with the launch of its Summer Combo Ticket featuring all three of its Las Vegas attractions: Discovering King Tut's Tomb at Luxor, along with Real Bodies and Dino Safari: A Walk Thru Adventure, both at the new Horseshoe Las Vegas. The Summer Combo Ticket takes guests through an immersive and educational journey across time, history, and the human body as it features all three of Imagine's Las Vegas attractions. Get transported to a flourishing ancient Egypt and discover one of the greatest archeological achievements that took place one hundred years ago with Discovering King Tut's Tomb at Luxor Hotel and Casino through the perspective of famed archaeologist Howard Carter. Travel even further back in time to the days of the dinosaurs at Dino Safari: A Walk Thru Adventure at Horseshoe Las Vegas and experience more than 30 life-sized animatronic dinosaurs as they're presented in their natural habitats. Then, open your mind with Real Bodies at Horseshoe Las Vegas and learn the physiological aspects of the human body, but also the emotional experiences that are part of it all. The Summer Combo Ticket is available now for $70, a 25-percent saving on tickets that's equivalent to one of the exhibitions for free in this all-in-one experience that includes admission to all three of Imagine Exhibition's Las Vegas attractions. While all three experiences are included in the Summer Combo Ticket, they're available for redemption separately now through Dec. 30, 2023. The Summer Combo Ticket is available for purchase now through Labor Day, Sept. 4, 2023, on each attraction's website such as RealBodiesVegas.com
New coupon for Mob Museum admission discount is now available in the American Casino Guide app and on the website on the FREE coupons page.
FREE No Deposit Online Casino Bonuses!: Like to play at online casinos? Our sister website has more than 30 exclusive offers that give you FREE casino cash when you open a new account! No credit card is required and no need to deposit any money! To see the offers, go to: https://www.americancasinobonuses.com
Ongoing Las Vegas Casino Deals
We also give information on the best promotions in Las Vegas that are offered on a continuing basis.

Click to see the latest edition of the Ongoing Vegas Values reports