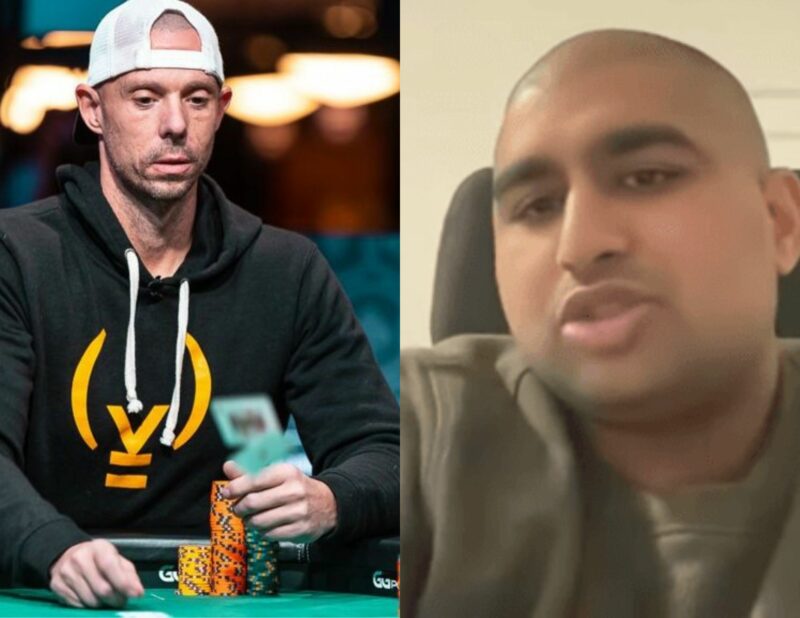 Following a bout with an undisclosed illness, Nikhil "Nik Airball" Arcot returned to Resorts World in Las Vegas Sunday to compete against his new bitter rival Matt Berkey in a high-stakes heads-up feud, and he booked a six-figure win.
Airball entered the contest earlier this month against the Solve for Why founder, whom he referred to as a "scammer." While it's still early and the sample size has only been 27 hours of play, far from enough hands to prove one player is superior to the other, it does appear that this match might turn out to be more competitive than anticipated.
For poker fans who are interested in the heads-up battle, unfortunately, there is no live-stream of the action. Berkey's Only Friends podcast co-host and friend Landon Tice has been providing brief updates during breaks, as has Airball's Hustler Casino Live pal Eshaan "Brownballa" Bhalla.
There's been a stark contrast in tone throughout the first three sessions between tweets from Bhalla and Tice as neither is hiding which competitor they'd like to win.
"Rampage" Headlines Hustler Casino Live $1M Buy-In Poker Game Lineup
How the Heads-Up Poker Match is Going
On April 2, the feuding poker players went to battle for the first time, and it was Berkey booking a $133,000 win, according to Tice's count. The following day swung in Airball's favor as he cut the deficit by about $100,000.
Last week, the players took a break due to an undisclosed illness from Nik Airball. Some poker fans, especially the Solve for Why community, questioned if he really was sick or just wanting to take some time off to study.
Either way, the players returned to action at Resorts World's poker room on Sunday afternoon with, as Bhalla tweeted, Berkey buying in for $100,000 and his opponent having him easily covered at $560,000.
By the end of the session, Nik Airball reportedly had about $682,000 in his stack, giving him a win of approximately $122,000. Tice reported that the margin of victory was $123,700, or around $90,000 across the first three sessions.
With no audience in attendance, the public doesn't get to know many details about the hands outside of a few pots shared by Tice or Bhalla on Twitter.
Bhalla did tweet out one crucial hand from Sunday's session that represents a large chunk of the six-figure differential. In that hand, on a paired board with a flush possibility out there, Berkey check-raised the turn to $10,000 and then bet $25,000 on the river with jack-high and was called by a straight.
Airball open jx8c Berkey call. Flop t T73r Berkey check airball bets 900 Berkey call. Turn 9c backdoor fd comes in… https://t.co/XK3hJRVe7W
Without a live-stream going, there aren't many hands to report. Perhaps, the match would draw more interest if the fans could actually watch it. During the pre-match discussions, Airball suggested they stream the competition, but his opponent required the game be played without cameras rolling.
The heads-up foes are scheduled to return to the felt on Saturday for Day 4, followed by Days 5 and 6 on Sunday and Monday April 23-24. There's a $1 million stop-loss in play for this high-stakes competition. For now, it appears that the match is going to be more competitive than the Solve for Why crew projected. Of course, that could all change with a couple of big Berkey wins in the coming sessions.