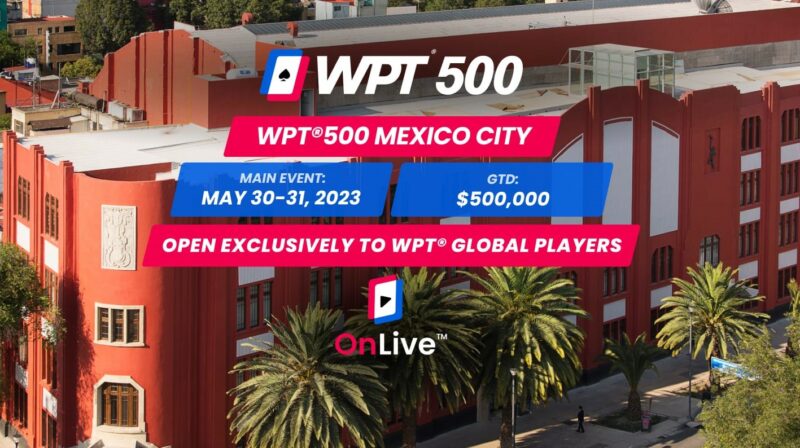 The World Poker Tour (WPT) has something exciting underway on its WPT Global platform — a hybrid online and live poker tournament that will pay out at least $500,000 in Mexico later this month.
For $550, players can enter the OnLive competition on WPT Global, and those who reach Day 2 will head to Mexico City for the live poker portion of the tournament. That will take place May 31 at Frontón México Centro de Entretenimiento, a venue that hosts top-level entertainment.
Poker Tournaments in Mexico
The WPT500 tournament, part of WPT Mexico Feria, isn't the only big event planned. There will also be a $5,000 WPT Mystery Bounty, and the World Poker Tour will add on an extra $50,000 Mystery Bounty pool.
Day 1 in the $550 no-limit hold'em tournament began April 9 with the first opening starting flight. On Sunday (May 21), WPT Global will host the final Day 1 session, beginning at 2:30 p.m. PT. After that, those who are left will be entered into the Day 2 session on May 31 in Mexico City.
At present, 268 players have entered the tournament, with 31 moving on to Day 2. One out of every eight players who enter will reach the money. There is unlimited reentry in this event, but players only have one more opportunity to get in on the action (Sunday).
Players must have a WPT Global account to enter, and those who are residents of a country not served by WPT Global are not eligible to compete in these events. On May 30, the one and only live Day 1 starting flight will take place at the aforementioned venue in Mexico City. The players from that flight will join all the online qualifiers for Day 2 the following day.
WPT Global will also kick off its Spring Festival May 21, which includes dozens of events such as the WPT Prime Online Championship, a $1,060 buy-in no-limit hold'em tournament with $200,000 guaranteed. The series runs through June 4.
View the Full WPT Global Spring Festival Schedule