Bill Perkins pulled off one of the wildest live-streamed bluffs ever at The Lodge Card Club in Texas on Sunday night, but he didn't even know he won the six-figure pot until an hour later.
The hedge fund manager had a plane to catch to Phoenix and couldn't stick around for the completion of the game. As he explained on Twitter, his friend was opening for comedian Tiffany Haddish and it's important for him to show up to support his friend. But he left the game in quite a memorable fashion a couple of hours early.
Getting a Live Read on an Empty Seat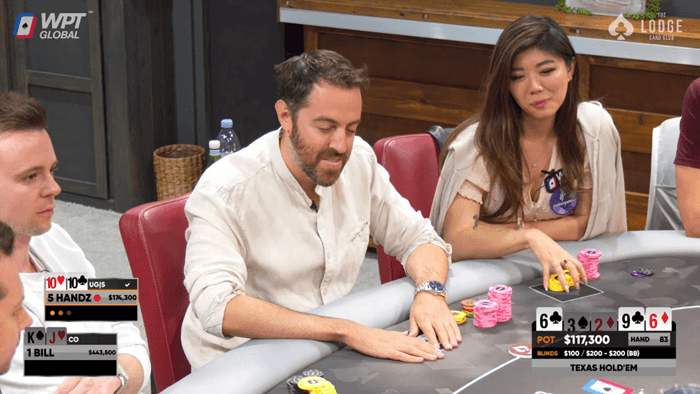 The Lodge, a card room co-owned by Doug Polk, had a few big name players in the game Sunday playing a $100/$200/$400 no-limit hold'em. Polk, Dan Smith, Xuan Liu, and Perkins were all battling for some six-figure pots.
About three hours into the game, Perkins realized it was getting late and announced, "this is my last hand, boys and girls." He then looked down at K♠J♥ in the cutoff and raised it to $3,000.
"He was going to raise it no matter what," another player said.
Alex made the call in the big blind with A♠5♥ before Handz, a Hustler Casino Live regular, made it $17,000 with 10♥10♣ from the straddle. Perkins called, while Alex moved out of the way.
The flop came out 6♣3♠2♦, a complete whiff for Perkins. Handz, loving the three undercards on the board, bet $20,000. Despite missing the flop, Perkins went for a min-raise to $40,000 and received a call. When the 9♣ appeared on the turn, both players decided to check. But the 6♦ on the river brought about some crazy action.
Handz went for value with his overpair and bet out $40,000, leaving $134,000 behind. Perkins, who had him easily covered, moved all in before standing up from his chair to head for the door.
"I have a plane to catch and that's more important because my wife will be f*****g pissed, so whatever happens, happens," Perkins said as he left the game in the middle of the hand.
Perkins' cards remained in front of his stack, face-down while Handz had a tough decision to make. He was facing an all-in wager against a now invisible opponent for what had become a $331,600 pot.
Getting a read on an empty seat is pretty much impossible, but Handz tanked for a few minutes to think back on how the hand had played out. He would eventually decide on a fold, concerned his opponent hit trips on the river, meaning he likely became the first poker player ever to get bluffed by a non-existent player on a live stream.
Perkins had no idea if he'd won the hand until it aired on the stream an hour later. He appeared in the chat on the Lodge's YouTube channel to find out the outcome along with all the viewers.
Although he pulled off one of the goofiest bluffs ever, Perkins still lost almost $200,000 for the session. Handz dropped $115,000 and had a rough weekend of poker. On Friday's Hustler Casino Live show, he had aces-up twice against superior hands but was able to find a fold on the river both times to avoid an even more disastrous outcome.