Jonathan Powers — "Jpowers1723" — won his seat into the World Poker Tour (WPT) Choctaw event, a $3,800 buy-in tournament, on ClubWPT, and now he's off to Day 2 with an impressive stack.
The 30-year-old New Englander didn't just make it through Day 1a with about 75 big blinds. He did so in his first major live poker tournament just seven months after joining ClubWPT.
Powers, who recently became a father, could conceivably turn that ClubWPT into enough money to cover his four-month old child's college fund already. The payouts at WPT Choctaw aren't yet available and will be figured out at the close of registration on Day 1b (Saturday). But the estimated prize for first place should exceed $300,000.
Building a Stack
PokerNews caught up with the qualifier at the conclusion of Day 1a to find out his backstory and his experience playing poker.
"I'm just super excited to be here, super blessed," Powers said. "I've got 190,000 chips at the end of the day, which ain't too bad because I was down to like 30,000 in chips and couldn't really get anything going."
The players began with 50,000 chips, and the first few levels didn't really go his way. Powers had to grind throughout the day and wait for a spot to build his stack. He said the key hand of the day was a massive double-up with ace-king when his opponent jammed preflop with ace-four and the best hand held up.
World Poker Tour Dream Come True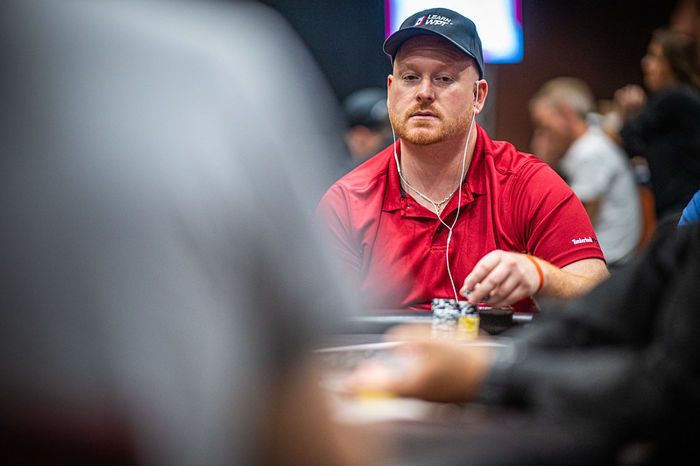 Playing in a World Poker Tour event was something Powers had planned for 20 years. He's been watching the WPT on TV since the tour's early days, long before he was even legally old enough to play poker. On Friday, he had dinner with the WPT staff, including Vince Van Patten, the longtime commentator he's listened to for years.
"Watching this for almost 20 years and telling my dad that we were going to win the tournament and a seat when I was 10, and my dad was like 'yeah, maybe one day,' Powers said of watching the WPT for so long.
The money bubble hasn't yet burst in the WPT Choctaw tournament, but the prediction he made to his father, who traveled with him to Oklahoma, could come true later this month. First things first though, he must survive the next two days of play to reach the final table, which will be held in Las Vegas at Luxor's HyperX Esports Arena on May 26. But just the fact that he's competing in a WPT event for the first time after watching the tour on TV for so many years is quite the experience for the poker enthusiast.
Powers is a recreational poker player competing in his first major tournament. Along with his dad, he works in the assisted living industry helping those with special needs and disabilities. As he explained, he'll bring special needs patients to church and take them to various activities.
"It's honestly changed my life a lot," Powers said of his meaningful occupation.
Powers is one of two ClubWPT qualifiers competing at WPT Choctaw. Felipe "ChampSome" Diaz, a 36-year-old from Wisconsin, entered Day 1b.
*Images courtesy of WPT.