Jason Koon continued his brilliance on the high-stakes scene with a dominant victory in the $100,000 buy-in Triton Cyprus High Roller Series Main Event for $2,451,082.
The GGPoker ambassador beat out 65 of the top high rollers in the world, including his heads-up opponent, Sam Greenwood, who received $1,923,918 as a consolation prize.
Koon has been quite impressive during the series with four final table appearances, including two titles. He also won Event #2: $20,000 No-Limit Hold'em 7-Handed for $663,000. In total, the West Virginia native has for just under $3.6 million during the series in North Cyprus with just a couple events remaining.
Emotional Poker Pro Crushes Stacked Final Table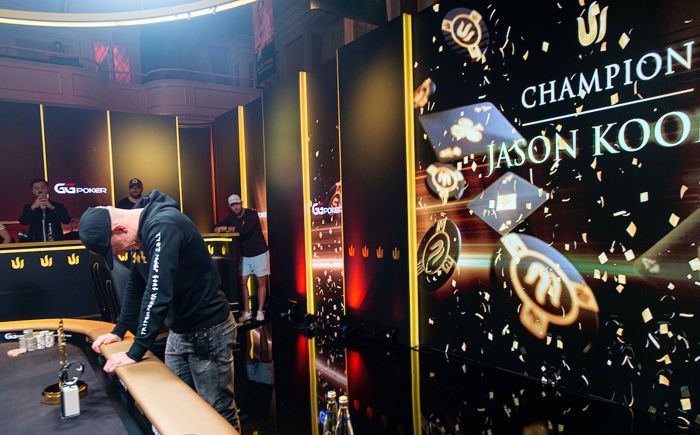 The Triton Cyprus Main Event final table was stacked with some high roller superstars, including Dan Smith, who finished in fifth place for $762,000. Earlier in the day, however, he engaged in a heated argument at the table with the eventual champion.
Smith, as seen in the video below from the Triton live-stream and posted by Rob Kuhn, had asked the others at the table to be quiet while he was in the middle of a hand. Koon didn't take too kindly to his opponent's comments.
"Buddy, I had two VIP's, not one, but two come up to me and say how awful it was playing with you because you berated them for having a conversation at a live poker table," Koon said to Smith.
Dan smith ask table to "get a moment"(for the table to stop talking)while thinking pre in a single raise pot. Jason… https://t.co/JfmUsoTwI8
Koon then criticized Smith for taking too long to act and told him it's a repeated issue and referred to the tanking as "obnoxious."
After Smith was eliminated, Henrik Hecklen took fourth place for $946,000, followed by the Steve O'Dwyer elimination in third place ($1,171,000). That set up a heads-up match between Koon and Greenwood. Both players agreed to a chop based on chip value and stack at the time. Koon was in the lead so he received the largest payout. They left behind an extra $84,000 following the chop to be awarded to the winner.
Koon's lead was about 4-1, but he was all in and ahead on the first hand of heads-up play with Q♠10♦ on a flop of Q♥9♥J♣ against the A♦K♣ of Greenwood. The turn was J♠, no help to either player, and then Koon wrapped up the tournament title when the 7♥ appeared on the river.
Both players shook hands and Koon was brought to tears of joy. Koon, a Triton brand ambassador, will likely end up winning Triton's Ivan Leow Player of the Year trophy, named in honor of the late Ivan Leow, the Triton co-founder who tragically passed away last year at age 39.
"I was here a little under a year ago when we lost Ivan," Koon said, choking back tears after the tournament wrapped. "Ivan was a good friend of mine. And walking through these halls every day I feel a little bit emotional about that. Just the title of Player of the Year, it gets me emotional. I miss the guy."
Koon's victory brought his career live tournament cashes up to over $47.3 million, good for fifth all-time, according to Hendon Mob. He's certainly at least in the conversation as the best player in the world right now.
Triton Cyprus Main Event Final Table Results
| Place | Player | Stack |
| --- | --- | --- |
| 1 | Jason Koon | $2,451,082 |
| 2 | Sam Greenwood | $1,923,918 |
| 3 | Steve O'Dwyer | $1,171,000 |
| 4 | Henrik Hecklen | $946,000 |
| 5 | Dan Smith | $762,000 |
| 6 | Sean Winter | $595,000 |
*Images courtesy of Joe Giron/Triton Poker.